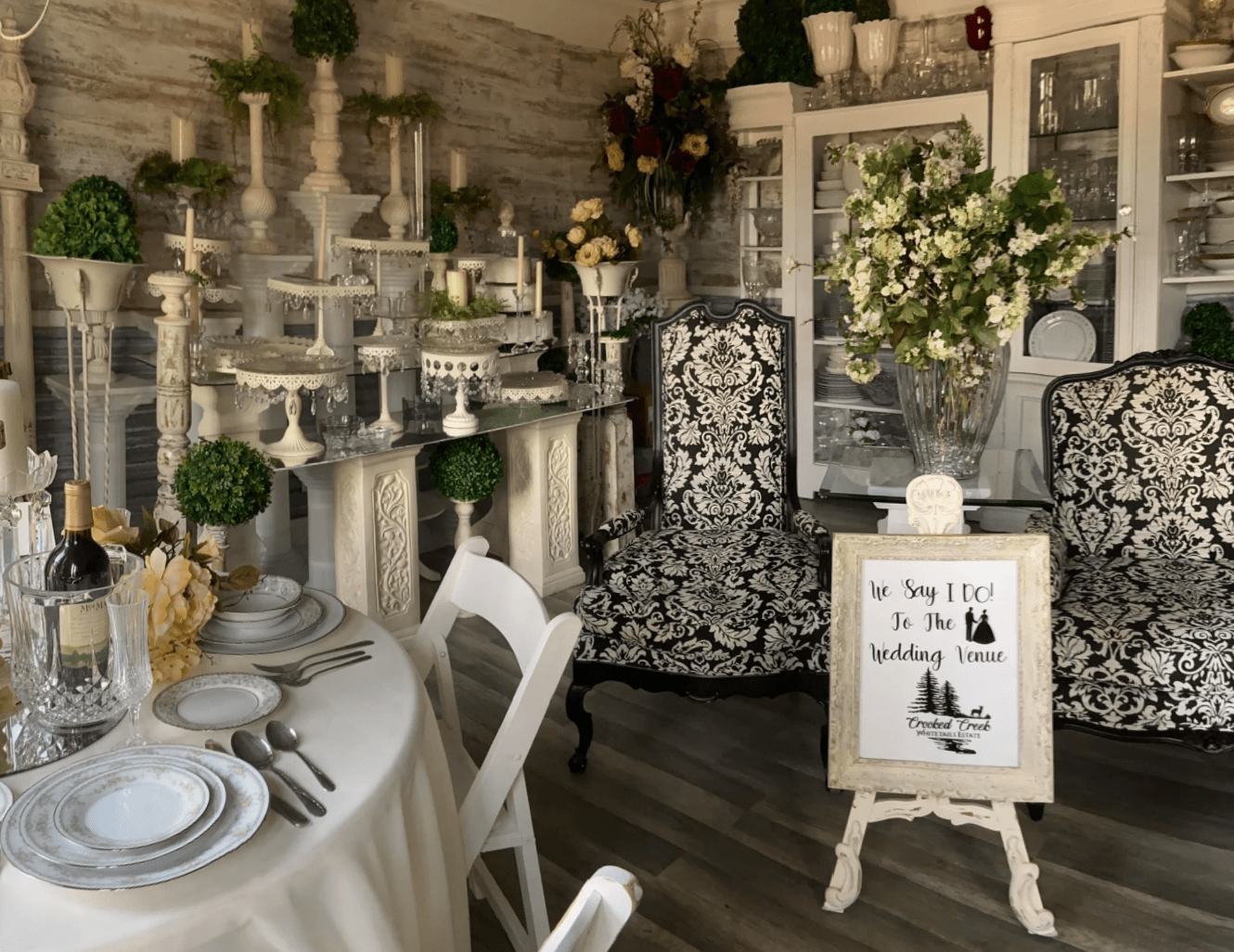 Select from an abundance of unique items to enhance all areas of your ideal event. Use one or all items for a fee of
$500.00.
Included is an hourly consultation with our decor staff specialist prior to your event to get a feel for your decor style and help give ideas and suggestions on how to enhance your event with our items.
Our decor staff specialist is available to decorate for you or alongside you with your items and ours, they can create a unique cake table display, or perhaps make alterations to existing floral arrangements the hourly rate is
$50.00.
Here are a few creative ways on how our items can be used:
White Draping on Pergola and or Cross (Venue coordinator will handle the draping.)

Multiple Large Silk Flower Arrangements

Multiple Silk Flower Center Pieces.

Multiple Styles of Greenery

Various Sizes of Roman Columns

Multiple Fern Stands/Columns

A Wicker Arch

Several Styles of Floor Candelabras

Crystal Ware to Layer and Enhance Your Buffet Table From All Types of Punch Bowls to Pedestal dishes.

All Different Sizes of Mirrors, From Center Piece, Mirrors to Creating a Unique Cake Table

Arrangements Using Rectangle or Round Oversized Mirrors.

Tiki Torches (for around pond)

Large Sun Tan Umbrella's
3 or 4 Whiskey Barrels

Choice of Alter

Multiple Garden Carts, For Water or Fern Stands

Antique Ladder Dessert Stand

Mason Jars, Cylinders, Glass Votive Holders

Rustic Round Wood Slabs

Whitewash, Crystal, Black Iron Candlesticks, etc.

Multiple sizes of Topiary Balls

Center Piece filler beads, Pearls, Crystal Beads, Gold Glitz Balls

Candles

Lanterns

Cake Plate Stands with Crystals and without.

Mini-Lights

Unity Candle Display

Antique Chairs

Champagne Ice Buckets

Champagne Glasses - For Head Bridal and Immediate Family, 30 or less.

Loveseat




And so much more…..